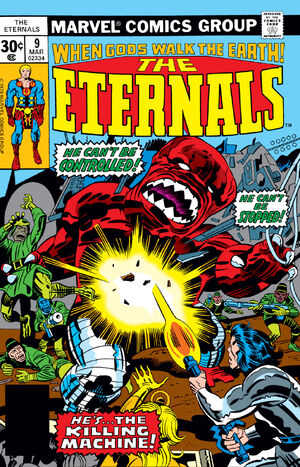 Quarter-Bin Podcast #110
The Eternals 9,
Marvel Comics, cover-dated March 1977.
"The Killing Machine!" written and penciled by Jack Kirby, and inked by Mike Royer.
In celebration of The King's centennial year, we are looking at a Jack Kirby work from his return stint at Marvel. How epic the story? How grand is the art? And how necessary is a comic book editor anyway?
Listen to the episode and find out!

Click on the player below to listen to the episode:
Right-click to download episode directly
You may also subscribe to the podcast through
iTunes
or the
RSS Feed
.
Promo: Dial G for Gamer
Next Episode:
Batman & the Outsiders 32
, DC Comics, cover-dated April 1986.
Send e-mail feedback to relativelygeeky@gmail.com
"Like" us on Facebook at https://www.facebook.com/relativelygeeky
You can follow the network on Twitter @Relatively_Geek and the host @ProfessorAlan
Source: In the Ballpark